Accuweather's forcast for February
---
SCG Quarterly Member Meeting - February 20, 2016
10 am at trailer
Our annual Spring Plant Sale will be held on March 5th. Check in often for more details.
Plant Lists
Tomato
Pepper
Eggplant/Tomatillo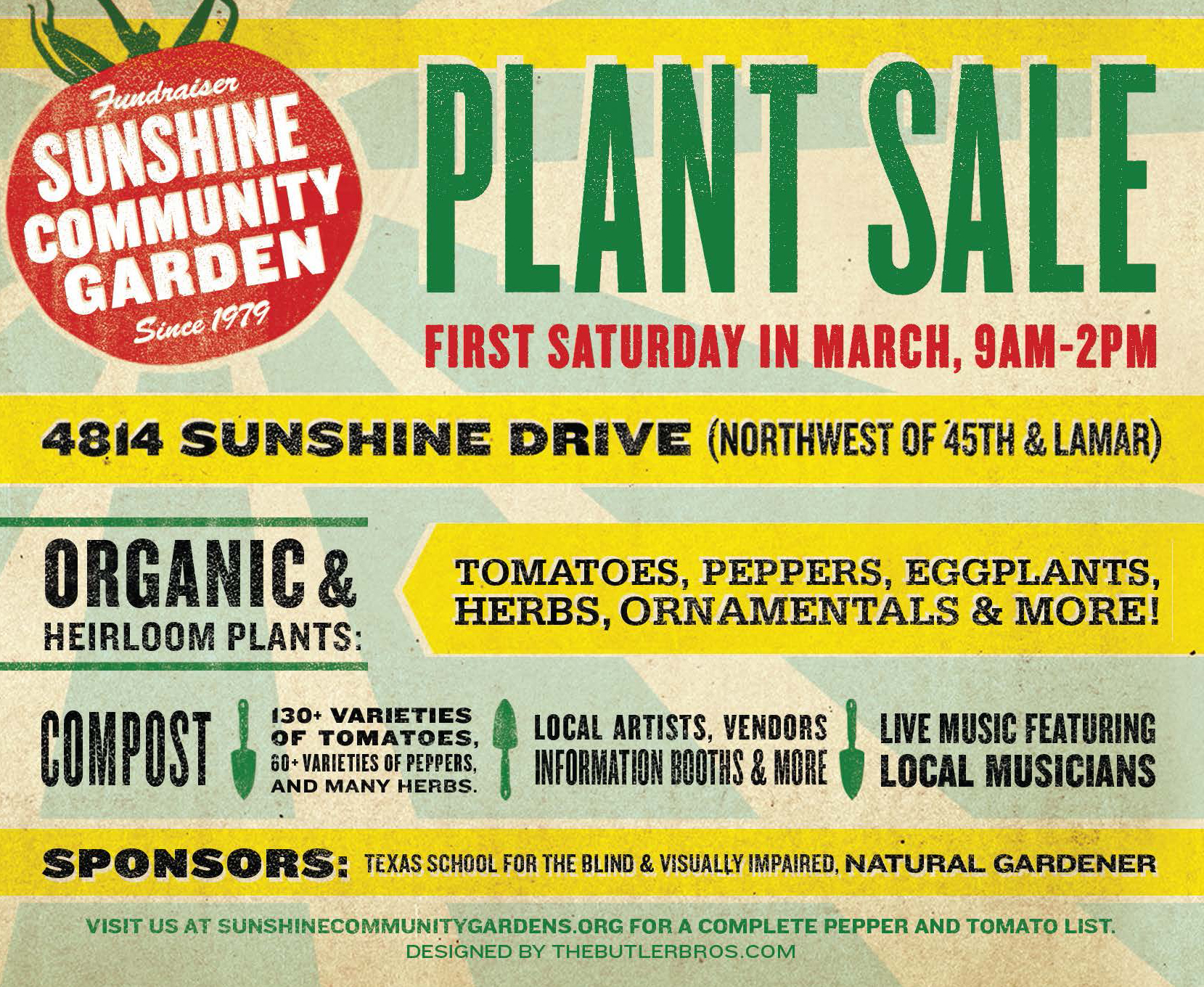 (Printable version)
---
Attention SCG Gardeners - Volunteers Needed for the Plant Sale
This is our most important fund raiser and requires many gardeners to swing into action to help with all of the preparations and activities during and after the plant sale. Most of the volunteer activities are during the plant sale (9-2), but there are before and after tasks also.
Please read the job descriptions and sign up.
Sunshine Updates
Fermentation Class
Saturday, February 13th at 1:00 pm
Looking for a way to preserve some of your harvest? Join us for a free fermented foods discussion and HANDS-ON workshop, . The class will be held in the kitchen of:
First Unitarian Universalist Church of Austin (one block from Sunshine Gardens)
4700 Grover Avenue
Austin, TX 78756
A local Chef Instructor and other Sunshine gardeners will explain how to ferment foods like sauerkraut, probiotic veggies, healthy Escabeche (carrot jalapeño relish) and kombucha.
Please bring, if possible, ALL ARE OPTIONAL:
Two clean pint jars with lids
A cutting board, a carrot peeler and a good kitchen knife
An apron and some way to tie back your hair (or wear a cap)
Your favorite whole spices (pepper corns, mustard seeds, allspice, dill seeds, etc)
Fresh herbs
Veggies! Freshly harvested or organic: carrots, cabbage, broccoli, cauliflower, onions, garlic, etc. You can brine ferment almost anything from the garden.
Fermented foods have many health benefits and are a great way to put up extra produce from your garden...and they taste great! This class is open to the public, so feel free to invite anyone who may be interested.
For more information, contact the SCG education committee at sunshinecgeducation@gmail.com.
Free Pre-Tour Event: 2/18 Pat Foreman on Growing Food with and for Chickens
We are really excited to have Pat Foreman, sustainable agricultural author, local foods activist and popular speaker for a 2016 FCCT pre-tour free event on Feb. 18th from 6-8 p.m. at St. Francis School. Her presentation is all about how to transform food deserts into growing food paradises by employing chickens-and their skill sets-to produce much of your own vegetables, fruit, eggs and meat.
Check out the flyer.
RSVPs at:
---
Pictures of Fall Transplanting
---
Video from the Plant Sale 2015 -- courtesy Berkley Bettis
---
Tomato Garden News
Many tomato varieties have been recommended for Central Texas gardeners. The tomato garden located by the entrance was established to evaluate various tomato varieties. Spring 2014 was the fourth year we have field tested tomato plants in the tomato garden. Each spring since 2011, eight tomato varieties have been grown or evaluated in the tomato garden. The tests are designed to determine the yield or production of each variety. Generally, tomatoes are allowed to remain on the vine until color is showing. Tomatoes from the test garden are donated to Micah 6 or Eastside Community Connection. Since 2011 over 4,500 tomatoes from the test garden have been donated.
During the first year of the test garden (2011), over 700 tomatoes were harvested from 24 plants of eight varieties. The Carmelita tomato plants yielded an average of 54 tomatoes per plant followed by La Rosa II with an average of 50 tomatoes per plant. Carmelita is a medium sized globe tomato. La Rosa II or LaRossa is a pear-shaped, paste tomato. A popular heirloom tested in 2011, Cherokee Purple, yielded an average of 14 tomatoes per plant.
In the spring of 2012, the 24 plants yielded over 1,300 tomatoes. The Viva Italia plants were extremely heavy producers averaging about 150 tomatoes per plant. Viva Italia is a pear-shaped, hybrid tomato. Arkansas Traveler yielded an average of 63 tomatoes per plant. Arkansas Traveler was developed in the 1970s and takes its name from an old heirloom that went extinct in the early 1900s. The plants yield a deep pink tomatoes weighing from 5-7 ounces.
The early high temperatures in the spring of 2013 negatively impacted the yield for the plants grown that year. Only a total of 376 tomatoes were harvested from the 24 plants. The three Bedouin plants yielded at total of 102 tomatoes, or 34 per plant, followed by Pink Berkeley Tie-Dye with 83 tomatoes, or 28 tomatoes per plant. Bedouin is a pear-shaped, dark red tomato originating in Eastern Europe. Pink Berkeley Tie-Dye is a port-colored beefsteak tomato developed at Wild Boar Farms in California.
For spring 2014, we planted five plants each of eight varieties. Plants were planted on March 22nd. Below are the varieties grown and the average number of tomatoes harvested per plants.
Andes - average of 15 per plant
BHN602 - average of 54 per plant
Black Krim - average of 30 per plant
Black from Tula - average of 32 per plant
Cream Sausage - average of 78 per plant
Early Girl - average of 107 per plant
Flamme - average of 98 per plant
Indigo Apple - average of 52 per plant
Overall, a total of 2,304 tomatoes were harvested. Black Krim and Black for Tula are heirlooms. Both yielded 30-32 tomatoes per plants. Black Krim and Black from Tula are both dark maroon beefsteak tomatoes from Russia. Flamme, or Jaune Flamme, is a French heirloom. Flamme is a small orange globe tomato. On average the Flamme plants yielded about 100 tomatoes each.
Early Girl is a medium size globe tomato, hybrid, reportedly producing earlier than other varieties. The Early Girl plants in the test garden didn't really produce "early" compared with other varieties. About 6% of the Early Girl tomatoes were harvested before June 1st compared with 22% of the Flamme tomatoes and 12% of the Black Krim tomatoes.
The Cream Sausage plants produced a large number of tomatoes during a short period of time. From June 7th through June 17th 225 tomatoes were harvested, or 57% of the total Cream Sausage tomatoes harvested. Cream Sausage is an elongated paste tomato that is cream in color. Cream Sausage tomato plants are short in height, about two feet tall.
---
Tomato Tasting Results 2014
At long last, the results from the Tomato Tasting are in (the earlier report was from a previous year). This year, we had 49 varieties to sample. The five top-ranked tomatoes for taste were Black and Brown Boar, Sun Gold, Lemon Boy, Cherokee Purple, and Black Cherry. The five lowest-ranked tomatoes for taste were BHN-602, Homestead 24F, Large Barred Boar, Dark Galaxy, and Lemon Cherry. Texture and looks were also judged although fewer people made comments on those features than for taste. In any category, scores with more people judging them are more reliable than those with just a few. Also, the results depend on the samples submitted. If the tomatoes weren't totally ripe or overripe, their scores may not be consistent with their peak flavor. Paste type varieties always score lower for taste and often texture than those typically eaten fresh.
---
---
Welcome to Sunshine Community Gardens' website
Please feel free to contribute recipes, hints, pictures, links, comments or anything else you feel that will help this website become a gardener's reference and home.
Send email to Sharon at scgardenweb@gmail.com.
Sunshine's Compost/Recycling Operations
Do you want to recycle leaves, grass clippings, or vegetable kitchen waste? You are welcome to bring this material to Sunshine Gardens and deposit it in the appropriate clearly marked pile.
Please empty your collection containers (another opportunity, to recycle) for reuse.
Unfortunately, we cannot accept twigs, branches, or logs as we have no way to deal with them as nature cannot break them down quickly enough given our limited space.
Also, we can't accept florist waste. We try to subscribe to organic practices and avoid herbicides and fungicides and preservatives. We don't know what the flowers are treated with but if and only if, it contains none of the above then you are welcome to dump it in our compost pile.